Arion bank and the Icelandic Forestry Association recently signed a contract regarding the banks' continued support of the Association. The three-year grant will be used for the Skógarvist project which is intended to encourage outdoor recreation and improved public health. The grant will also help with the implementation of the Avenza app, used to manage forestry mapping digitally and thereby provide a better overview of the expansion of new forests and their sequestration.
Arion bank has supported the Icelandic Forestry Association for years and has a history of it dating back to when the bank was Búnaðarbanki Íslands. As a side note, the annual General meeting of the Icelandic Forestry Association will be held at the bank's meeting room at Borgartún 19, but due to Covid-19 it was not possible to hold the meeting in its traditional format.
Arion bank has set itself ambitious goals of reducing greenhouse gas emissions and is working with the Iceland Carbon Fund to help offset the rest. The Iceland Carbon Fund planted around 4.700 trees to offset the bank's emission for 2020 from its operations, i.e. housing, vehicles, air travel and taxis, waste and the travel of employees to and from work.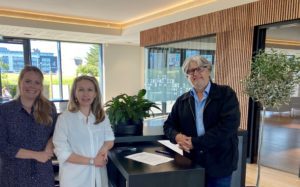 Brynjólfur Jónsson, director of the Icelandic Forestry Association, Hlédís Sigurðardóttir, project manager for social responsibility and Anna Sigríður Kristjánsdóttir, assistant to the CEO, at the contract signing.