The General Meeting of the Icelandic Forestry Association (IFA) was held in Reykjavík on September 5, in a meeting room of Arionbanki. The General Meeting usually spans three days, with lectures and field trips and the IFA member associations take turns hosting the meeting. In view of restrictions due to Covid a decision was made to change the format of the meeting. Only elected representatives of the member associations were invited, in order to carry out the necessary duties of the meeting, such as electing the board of the IFA and approving the annual accounts. Some of the delegates attended the meeting remotely.
Jónatan Garðarsson was re-elected as chairman of the IFA. Two new board members were elected; Nanna Sjöfn Pétursdóttir from the Bíldudalur Forestry Association and Berglind Ásgeirsdóttir, from the Suðurnesja Forestry Association. The vice board members – Kristinn H. Þorsteinsson, Valgerður Auðunsdóttir and Björn Traustason – were all re-elected. One resolution of the meeting was passed, on the use of biological control of forest pests.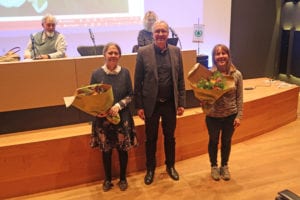 Sigrún Stefánsdóttir (left) and Laufey B. Hannesdóttir (right) left the board of the Icelandic Forestry Association after serving on it for years and were given a bouquet with thanks from Jónatan Garðarsson.