The Icelandic Forestry Association and Samkaup signed a contract of collaboration on August 31 for the Opinn skógur (Open Forest) project.
The aim of the collaboration is to improve facilities and access to existing forests, including providing information on the ecosystem, nature and history of the forests, so the general public can use the forests for outdoor recreation. The contract secures funding for the project for this year and the next.
Open Forests currently number seventeen, all over the country.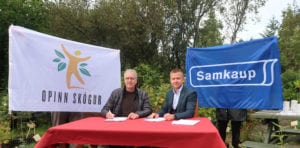 Jónatan Garðarsson, chairman of the Icelandic Forestry Association and Gunnar Egill Sigurðsson, from Samkaups, sign the contract.